Step process for Concrete Polishing
admin
Diamond Polishing Tools is the best no-wax flooring material for grind concrete surfaces, whether new or old, to a high-gloss finish.. The step process for concrete polishing is vary with different company. The overall concrete polishing process is about the same. In the last few years systems utilizing a 3 tool polishing process.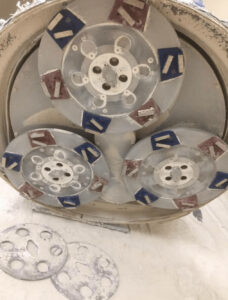 The first step involves coarse grinding the concrete with below grits: 6, 18/20, 30/40, 60/80 ,120, 150, 200. If concrete repairs are needed, it's best to get them complete first, namely we would clean out, repair and fill any expansion joints.
PCD's would be used to aide in old epoxy, glue removal, it's not necessary for all floors. Let's talk in the next article.
Depending on the different hardness concrete, we will choose metal bond diamonds with Hard (for concrete that's a little softer), Medium or Soft (for hard concrete), Extra Soft (for extremely hard concrete). It's not easy to figure out how to choose the correct bond tools for concrete polishing, but with experience, it would be helpful to understand with special machine.
In most of the projects, we end using grit 60/80 metal diamonds no matter which grit we start. The next step metal diamonds with fine grit (120/150) would be used to grout the the concrete is porous, we'll never get the gloss we want, so that's a good indication the floor needs to be grouted. Our last metal diamond would then be 120 or higher.
After complete the coarse grinding process, we will need to use a grit 30 or 50 grit ceramic transitional diamond pad. This pads help in the transition between the metal diamonds and the resin diamonds. It also helps remove the remaining metal scratches. The regular grit for the ceramic transitional is 30, 50, 100, 200, 400, we could use 200 or 400 for better polishing before resin bond start.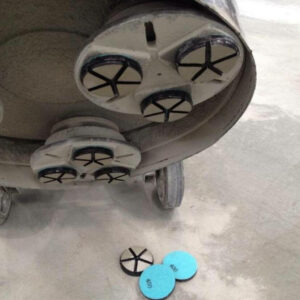 Once the transitional diamonds are completed, we begin using either our 50 or 100 grit copper hybrid and continue using the 200/400 grit resin diamonds.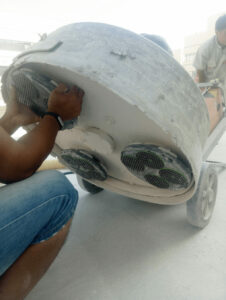 The final steps are optional. It depends on the amount of gloss we need, we can stop after grit 800, 1500 or go all the way to 3000. If we decide to continue through the 3000 grit, the concrete will have a mirror-like finish which is same with the glass. This is how to polish concrete!