The Benefit of Diamond Concrete Polishing
admin
More and more factories, garages, warehouses, residential and commerical facilities in the world have chosen polishing concrete floors as an alternative to terrazzo, stone, ceramic tile due to the extremely durable, cost effective and easy maintenance.
The first advantage is the density and overall compression strength will be improved after diamond polishing which will actually increase the the concrete hardness to resistant to dust, oil, grease, dirt. It will also extend the lifespan of floor.
The second advantage is being making a high gloss reflection, the brightness of the concrete surface will be improved by up to 35% which makes the floor superior and attractive. Plus the floor after polishing will prevent slip which will be safer especially for the elders and children.
Diamond concrete floors will be sealed to resist the dust, dirt or liquids seep into the concrete, thus we don't need to wax it to save time and money, maintenance cost will be low due to this process and its long lifespan.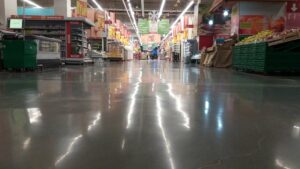 We recommend a full polishing process to eliminate the concrete from all the impacts utterly.
Let's make the floor graceful and charming for any space.